Full Service Gunsmithing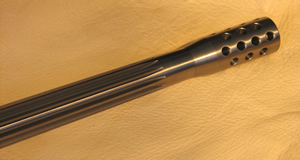 Hofmeister Custom Shop is a gunsmithing shop that specializes in building custom rifles and handguns. We also offer complete gunsmithing services, from repair to refinishing. This is a basic overview of our prices and services. The following services can be added to a custom firearm or performed on your factory guns.
Hofmeister Custom Shop looks forward to providing the finest gunsmithing services for all your needs. The service list below is not all inclusive; please contact us and we can work with you to perform whatever service best fits your needs.

Shop Charges (charged in 1/4 hour increments)
Shop time per hour
$45.00
Machine time per hour
$55.00
Minimum charge per gun
$35.00
Written estimate
$20.00
Back to top

---
Standard:
True receiver face and lap in bolt lugs.
Level 2:
True receiver face, lug seats, remachine bolt lugs, true bolt head and face, lap in bolt.
Level 3:
In addition to Level 2, recut receiver threads concentric to bore.
Level 4:
In addition to Level 3, bore receiver boltway true to bore and fit oversize bolt body.
Remington 600, 700, XP100 and Model 7 as a standard for level 4, call for pricing on other models
Please call for pricing on all blueprinting packages.
Bush bolt face or change case head size, install Sako or M16 Extractor
Added to any blueprinting job
(extractor included)
$175
Open bolt face refit extractor
(claw extractor action)
$125
Back to top

---
Fit and chamber
$200
Rechamber (to Ackley) set barrel back and retime
$125
Complete barrel break-in service (does not include ammo)
$65
Custom muzzle breaks manufactured and fit
$200
Barrel fluting - standard 8 flutes
$145
Mill octagon barrel - standard contour or straight taper

up to 27 inches
up to 34 inches

$165
call
Note: Octagon work includes polishing to 120 grit.
Call for pricing on barrels with integral front sight bases, quarter rips, and sling swivel studs.
Back to top

---
Standard glass bedding
$125
Pillar bedding
$165
M1/M1A match bedding
$200
Back to top

---
We build complete custom stocks to order.
Please call for pricing.
Fit recoil pad
Wood stock
$55
Fiberglass stock (screw and expoxy on)
$65
Inlet and fit barreled action to stock
starting at
$125
Install swivel studs (studs included)
$35
Install Freeland or Anshutz forearm rail (does not include rail)
$55
Call for pricing on adjustable comb and butt assembly
Back to top

---
This is just a glimpse of the pistol and revolver work we do!


Reliability Tune Up, 1911's
Throat barrel, polish feed ramp, tune extractor, lower and rake ejection port. Replace recoil and firing pin spring, polish and reblue slide. Test fire.
$200


Low mount Bo-Mar sight "protected" either dovetailed or silver soldered front sight. Polish and reblue slide (sights included). Test fire.
$300


Fit beavertail safety (safety not included)
$80
Fit ambi thumb safety (safety not included)
starting at
$65
Checker front strap
$195
Action job, 1911 type
$95
Action job, Browning Hi Power
$120
"Solder On" type mag well extension
starting at
$125
Fit new Commander Hammer (parts and trigger work not included). Requires test fire.
$30


Revolver Work
Action job, Single action
$65
Action job, Double action
$110
Set barrel back, recut forcing cone and cylinder gap
$95
Convert square butt to round butt
$100
Straighten crane
$35
"Bob" hammer spur
$40


For custom barreling check out the custom handguns page.
Back to top

---
Bolt Actions
Adjust trigger
$55
Stone and set trigger
$75
Fit Jewel or similar trigger (does not include trigger or stock work)
$65
Semi-auto
AR-15 and FN FALs
$95
Back to top

---
Custom sight mount
$55
/hr
Drill/tap and mount sights -
2 holes
$30
Drill/tap and mount scope -
4 holes
$50
Turn barrel for front sight clamp

when barreling
on a fit barrel

$25
$65
Drill barrel for Unertle bases (does not inlude bases)
$50
Custom scope mount, custom base, ream and lap in rings mount and boresight
$65
Cut a dovetail in barrel
$55
Sweat on front sight
$50
Bore sight customer gun
$20
Sight in customer gun (does not include ammo or targets)
$50
Back to top

---
Bluing
Polish and blue -
Long gun
$175
Polish and blue -
Handgun
$150
Belgian Blue
$225
Belgian Blue - Win. 70 action, polish the rails "original"
$125


As a service to our customers we provide metal finishes from Robar. They are the highest quality available. Prices below do not include polishing, disassembly, reassembly, or shipping.


Bluing stainless steel
(complete rifle, NP3 internals)
$225
Barrel only
$65
NP3 and Roguard
(complete rifle)
$320
Call for other prices.
Back to top

---
Cut long forcing cone
(non chromed barrels)
$55
Modify choke
(non chromed barrels)
$55
Install beads
(per bead, not included)
$25
Back to top

---
Rifle
$50
Handgun
$45
Shotgun
starting at
$75
Back to top

---