Uncompromising
Quality
Custom Firearms
Hunting and Target
Pistols and Rifles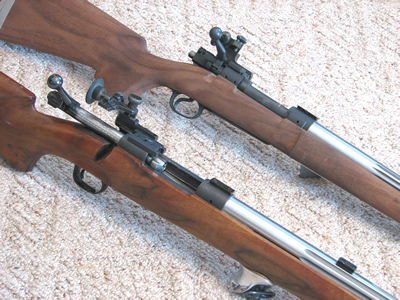 Custom firearms are things of beauty and here at the Hofmeister Custom Shop they are also deadly accurate. We build rifles and pistols to look good and shoot better. If you are looking for a super accurate long range hunting rifle, pistol or a world class target rifle, we have the right tools for the job. We know whether you're counting Xs at the range or looking at a trophy Dall sheep through your scope you need the finest rifle you can get.
You are at the right place. Welcome!
We build each rifle or pistol one step at a time with the craftsmanship that only time and experience can afford.
There are many choices in the world; you have taken your first step:
First, we select an action to suit your needs or wants. We will fully blueprint a Remington 700, Winchester Model 70, Sako, or start with a custom action of your choice.


Second, we mate it precisely to one of the finest cut rifle match barrels from Krieger, Obermeyer or Chanlynn.


Finally, the barreled action is then hand fitted.



For those who like traditional rifles of blue steel and walnut, a beautiful piece of beautiful English or Claro walnut is available.


For those who have embraced fiberglass stocks and stainless steel, the rugged all weather stable rifle of the future is at your fingertips.


Custom is what we do, if you are looking for a specific custom feature for your firearm,
contact Hofmeister Custom Shop with your ideas.