Custom Hunting Handguns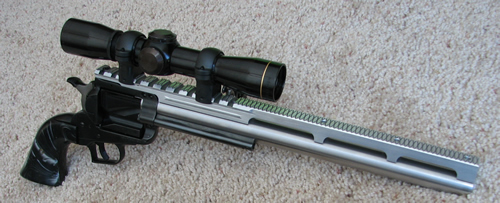 Handgun hunting is my personal affliction, and here at Hofmeister Custom Shop we build Pistols that are as accurate as any custom rifle, and more accurate than most. We don't really care what type of action or game you're into; we can build a pistol to suit your needs.
Whether you're building a full-blown custom handgun or remodeling one you already own, HCS is the shop for all your needs.
We have been building hunting pistols since the beginning; it's our passion. There is nothing like taking to the mountains, woods or the prairie in search of your next trophy with your own custom handgun. We build the kind of handgun that fills you with confidence, the confidence to take your handgun hunting to the next level.
| | |
| --- | --- |
| Custom Barreling: | Rebarreling of most actions. |
| Full Action Blue Printing: | Best there is. |
| Rechambering: | 300+ calibers. |
| Restocking: | Both wood or fiberglass. |
| Glass Bedding: | Pillar and Conventional. |
| Custom Scope Mounts: | For unusual pistols. |
| Custom Muzzle Breaks: | Better shooting from less recoil. |
| Trigger Work: | For highest accuracy. |
| Custom Finishes: | Superior weather resistance. |
We are handgun hunters; we know what you need to be successful in any handgun hunting situation. Anywhere you hunt from hardwood forests in the east to the wide-open prairies and mountainsides through out the west, from the harsh wet Alaskan coast to the hot dry African veldt, we can take you there!
See Selecting a Custom Handgun Action for more information on actions used to build a custom hunting handgun.